WHERE WE'VE BEEN IN THE SUMMER OF '08

The tour started at Harbor Island Park where the NY Sportimes played the Washington Kastles in World TeamTennis with Author Marcia Frost (center), her daughter Sam (left) and publicist Liza Horan.

NY Sportimes' Brian Wilson stopped by to check out the book, which contains quite a bit about the 2003 NCAA Doubles Champion (with Rajeev Ram)
Justin Gimelstob, a member of WTT's Washington Kastles, came by the booth to pick up his copy of American Doubles... before signing autographs

John Isner picked up his copy of American Doubles... in Newport, RI, where he and Mardy Fish won the doubles championship

Kevin Anderson reads about his former Illini teammates during the Hall of Fame Championships
American Doubles... was available at the Boys' 18 & 16 Nationals at Kalamazoo, as well as the Girls' 18s in Berkeley, with a portion of the profits going to the tournaments
Look for American Doubles... at the GHI Bronx Classic, where author Marcia Frost will be appearing on national television. American Doubles... is available at the U.S. Open Championships bookstore. Marcia Frost will be doing a second show on RadioTennis.com during the Qualifying event, as well as appearing on the CBS Early Show during the main draw.
For more photos and stories on American Doubles, buy...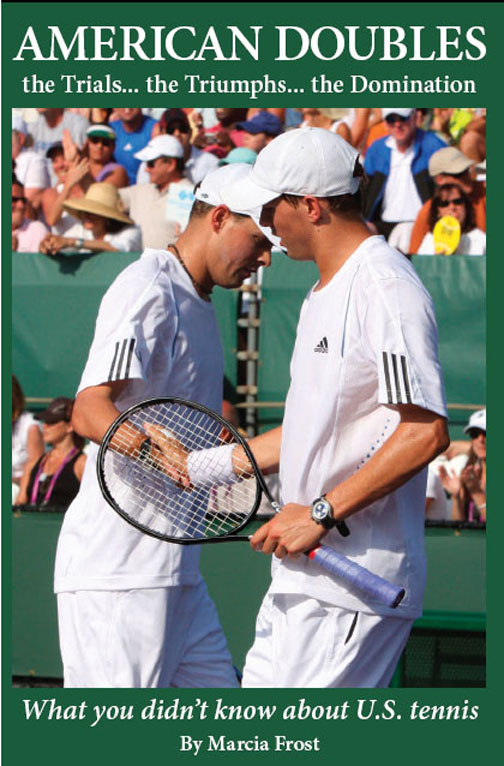 AMERICAN DOUBLES...
the Trials... the Triumphs... the Domination
By Marcia Frost
Published by Mansion Grove House
Cover Price: $26.95
may be discounted at Amazon

Autographed copies available for cover price
email Marcia@pwta.com for details.