RAVE REVIEWS!

"This is the most thorough presentation I have seen of what American players have done in doubles in junior, college and professional levels. It is especially revealing of the Bryan twins and their development.
Great reading for the real tennis fans." -Stan Smith, former No. 1 player, Legendary Champion

From the world No. 1 Men's Doubles Team:
"We've felt a renewed interest in doubles the past few years and this book will help the great game even more. It is so well written and researched and it is loaded with good info. We love the dynamics of the team thing and it is captured so well by Marcia Frost in this work."
- Bob Bryan
"I agree with Bob. We are getting great crowds at our matches and amazing support. By reading this book, people will gain more insights into why we think men's, women's, boys', girls' and mixed doubles gives
tennis so much more width and breadth and can really help the growth and popularity of tennis. We say thanks to Marcia for doing such a great job on this fantastic book about our rich American doubles history."
- Mike Bryan

"Marcia has been able to tell the American doubles story in clear detail. It is the very fabric of our success in Davis Cup over the last 100 years. Whenever the U.S. has dominated in Davis Cup it was our doubles that lead the way.
The big singles names got the glory but it was the doubles point that other countries feared most. American doubles is who we are. Cutting and crossing, playing big shots at big times. America is about team in everything we do, school,
business, family and the way we play doubles reflects that teamwork. Marcia Frost did a great job on the game that doesn't get enough credit."
- Luke Jensen, Syracuse University Coach, French Open Doubles Champion (1993) with brother Murphy

"Fans of professional doubles tennis know that matches have gotten more entertaining in recent years. Marcia Frost has scored a winner by getting into the hiddenn inner circles of the American doubles. The end result is a close-up view that is intriguing, exciting and impossible to put down."
- Dick Gould, Director of Tennis, Stanford University

"At last -- a great book on doubles and the greatest teams who have played it. Marcia Frost has been one of our very best tennis writers for the past several years. She has done lots of homework and research and she presents doubles in a fun and entertaining way. Most people play and love doubles and they will love this book."
- Coach Wayne Bryan, 2008 PTR Professional of the Year

"From Juniors through to college, Davis and Fed Cup, and the Grand Slams, this book is an enjoyable read and an excellent refl ection on the fantastic history of American doubles. Any fan of tennis will enjoy this
passionate story about the great game of doubles."
- Craig Tiley, Director of Tennis Australia, Tournament Director of the Australian Open


---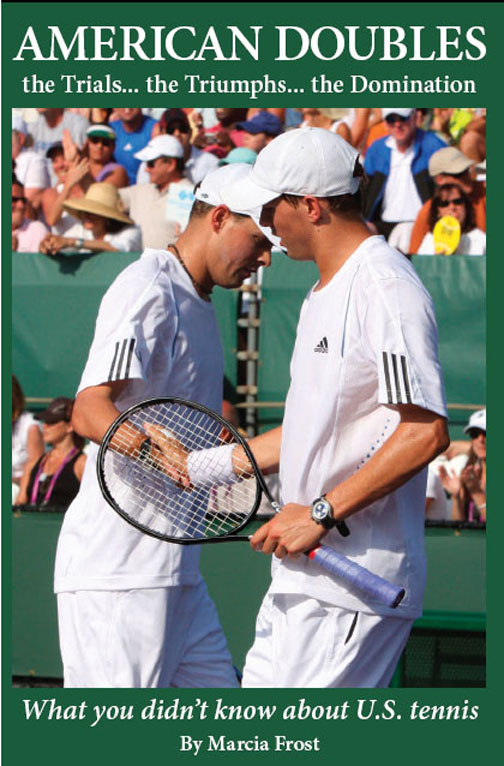 AMERICAN DOUBLES...
the Trials... the Triumphs... the Domination
By Marcia Frost
Published by Mansion Grove House
Cover Price: $26.95
may be discounted at Amazon

Autographed copies available for cover price
email Marcia@pwta.com for details.